AGYA Annual Conference 2021 on Sustainability
Future Now – Towards Responsible Research and Sustainable Science
How to make knowledge production sustainable? How to integrate principles of sustainability into research practices? How can interdisciplinary approaches contribute to responsible research? These were the main question, which members and invited experts explored during the AGYA Annual Autumn Conference, held online from 3 – 6 November 2021.
After a warm welcome, AGYA Principal Investigator Prof. Dr. Verena Lepper and AGYA Co-Presidents Dr. Maha Nasr, and Prof. Dr. Amr Rizk introduced the topic by providing insights on sustainability from their respective disciplines and how AGYA contributes to it with its interdisciplinary approach.
'Individual commitment and reflection of one's own research practices is the necessary first step towards sustainability in knowledge production', stated Verena Lepper. 'AGYA takes on responsibility by strengthening sustainable approaches in a transregional and interdisciplinary context.' 'Sustainable science itself', Maha Nasr added, 'is an interdisciplinary approach, overcoming the limitations of traditional discipline-based research to address complex problems that afflict humanity.' Amr Rizk highlighted in this context the importance of sustainable publishing: 'By making knowledge accessible and hence offering a platform of exchange, AGYA adheres to the principles of open science.'
The festive opening of the conference set a highlight with a prominent keynote lecture by Prof. Dr. Rolf-Dieter Heuer, former Director-General of CERN. Currently, he holds the position of the Council President of SESAME – the unique synchrotron in the Arab world, where transcultural research collaboration is key. Prof. Dr. Heuer provided insights and reflections on sustainability through research cooperation. Synchrotrons offer an ideal research environment where scholars meet and exchange on eye level – beyond disciplines and beyond borders. Creating new networks, and publishing research data in terms of open science is what leads to sustainability, argued Prof. Dr. Heuer.
From an Arab perspective, Prof. Dr. Fadi El Hage, Delegate of the Rector for Professional Training at Saint-Joseph University, Lebanon, addressed the implementation of sustainable approaches in education and academic teaching. He stressed that only self-taught knowledge has a long-lasting effect and is therefore sustainable. This highlights the importance of active and inclusive learning methods within the knowledge transfer process.

New AGYA members 2021
Each Autumn Annual Conference also brings a breath of fresh air into the academy's life: 11 new AGYA members from Egypt, Germany, Lebanon, Morocco, and Tunisia were inaugurated in a festive ceremony. This marks the beginning of their five-year membership in AGYA and enables them to develop innovative projects through research cooperation across countries and disciplines.
The former Steering Committee passed the baton on to six members, who were elected during the General Assemblies to form the new Steering Committee. They will coordinate all AGYA member academic activities and represent the academy at international conferences to enhance AGYA's cooperation network. In this context, the two new Co-Presidents were elected: Dr. Amro Ali will serve as the Arab Co-Presidents and Dr. Mahmoud Abdel-Hafiez represents the German Co-President. Congratulations!
For seven AGYA members, the Annual Conference concluded their active membership. Becoming alumni/ae in the growing Alumni Network, they will serve as AGYA ambassadors and stay part of the AGYA family.

Winner of the Idea Competition 2022 – Arab Postcolonial Research Hub
A look ahead to future activities provided the announcement of the winner of the Idea Competition for 2022. This year, the project idea 'Building a Postcolonial Archive at the American University of Beirut' submitted by AGYA member Dr. Anaheed Al-Hardan from Lebanon won the prize. The project aims at establishing an Arab postcolonial research hub at the American University of Beirut (AUB) open for scholars from all over the world, where documents of the Afro-Asian movement of the decolonization era will be stored and studied. 'Winning the Idea Competition enables us to set-up a pioneering decolonization era archive based on original materials published during this period,' explains AGYA member Dr. Al-Hardan.
With its manifold and inspiring program, the AGYA Annual Conference Autumn 2021 spurred debates on sustainable research practices. Although approaches to sustainability differ among disciplines, the lively discussions clearly showed that expanding the discourse on an interdisciplinary level is a fruitful way to identify innovative solutions.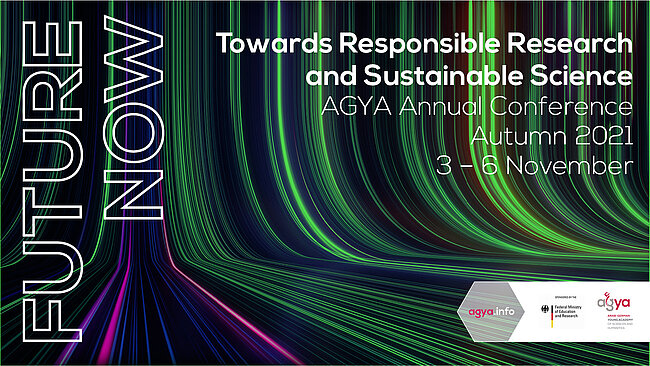 3-6 November 2021
Online