Young, Outstanding, Pioneering!
AGYA members are excellent early-career researchers (three to ten years post-PhD) from a variety of disciplines. The members are affiliated in equal numbers with research institutions in Germany and in Arab countries.
AGYA offers its members the unique opportunity to develop and implement their ideas, visions, and projects within the framework of Arab-German research collaboration. Limiting the number of members to 60 ensures close cooperation and gives AGYA members a sense of familiarity and mutual trust. At the same time, this number allows for diversity in terms of geographic background and academic fields. Membership is granted for a period of five years, after which members obtain lifelong access to AGYA's Alumni Network of excellent researchers.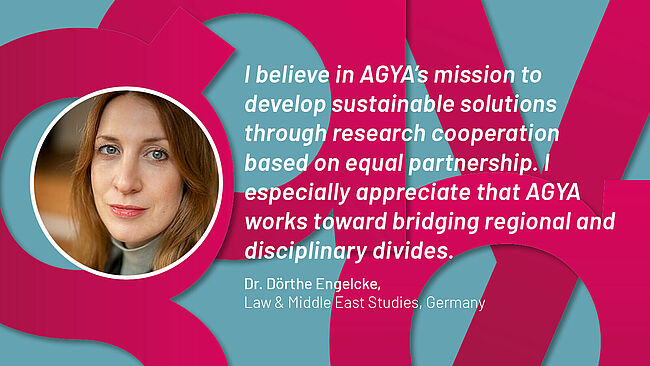 Would your research benefit from a lively interdisciplinary and cross-cultural conversation from Arab and German perspectives? Would you like to expand your horizons and see your work make a difference beyond your field? Then AGYA is the academy for you. AGYA members engage in the unique academy to facilitate Arab-German collaborative research across disciplines and borders.
AGYA members engage in a variety of supported and funded collaborative research formats, from pairing with a German or Arab counterpart in a Tandem Project, to shaping research agendas in Working Groups, with funding and administrative support. All members convene at two Annual Conferences with high-profile networking events including inspiring keynote talks, and tailor-made training seminars, both on- and offline. Travel funds enable members to fully participate in AGYA conferences and activities. Next to these networking activities, members also benefit from promotion through up-to-date public relations measures that enhance their professional profile and visibility.
The AGYA ethos is one of peer exchange across scientific communities, disciplines, and backgrounds. As ambassadors of their respective disciplines and cultures, AGYA members shape the academy's social impact. Active membership in AGYA lasts for five years, but the personal and professional connections forged through intercultural exchange and research cooperation in the academy's expansive scholarly network continue long after. Lifetime membership in AGYA's Alumni Network is a commitment that ensures that alumni/alumnae and active members will continue to interact and benefit from each other's energy, ideas, and experience in the years to come. In AGYA, you become a contributing member of a growing family of outstanding minds.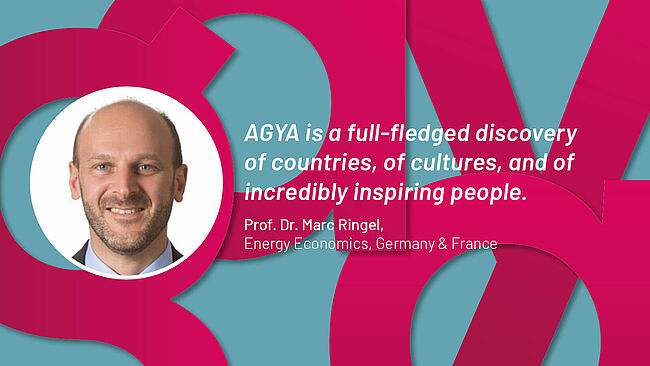 Eligibility & Requirements
Are you an early career researcher (3-10 years post PhD) with a proven record of excellence?
Are you affiliated with a university or a research institution in Germany or any of the 22 Arab countries?
Are you interested in collaborating in interdisciplinary teams to take on shared challenges and develop solutions?
Are you dedicated to academic leadership?
Are you fully able to complete your work in English?

If your answer to all of the above questions is "yes" and you are willing and able to commit time and effort to joint AGYA projects, then you are eligible to join AGYA. Become part of AGYA, uniting excellent early-career researchers from Germany and the Arab world.
The AGYA Call for Membership Application is published annually at the beginning of the year. Candidates are reviewed and selected in early summer, and new AGYA members are inaugurated at the AGYA Annual Conference in autumn.
For more details on your next opportunity to join AGYA, please see the Call for Membership page.
New members are selected in a highly competitive process with several hundred applications every year.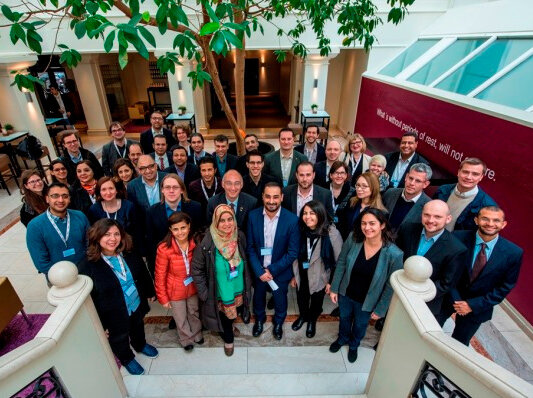 As an AGYA member, you will
Implement innovative Arab-German research projects
Expand the range of your research at the interface of science and society
Increase your professional visibility
Receive project funding and administrative support
Master intercultural and interdisciplinary research
Benefit from tailor-made training opportunities
Increase your interregional mobility
Share your ideas and visions with your fellow AGYA members
Enjoy the commitment among your peers to collaborate on cutting-edge research
Access an international network of distinguished researchers and innovators
Become part of a growing community of experts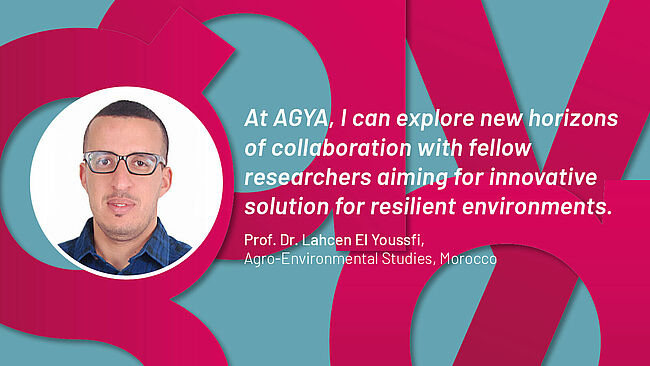 AGYA Members Can Come From: