Brigitte Schiffer: Letters from Cairo, 1935–63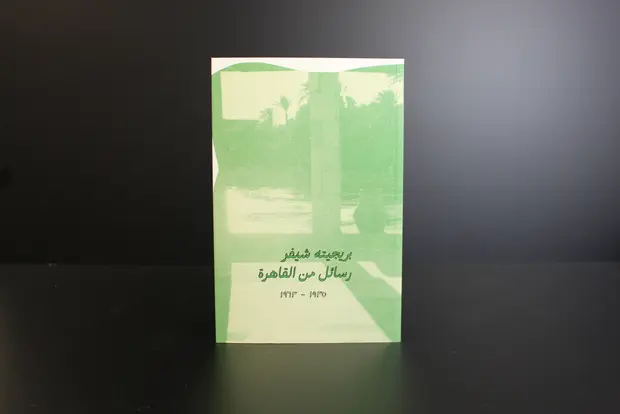 Published: 2022
Abu Dhabi, UAE: Kalima Berlin, Germany: Falschrum Books
ISBN: 978-9948-33-290-9
Publication
Translation as a means to spread knowledge and instigate discussions is a major driving force behind this project by AGYA members Ikram Hili and Matthias Pasdzierny.

Brigitte Schiffer (1909-1986) is a precious find in this regard, as she bridges European and Arabic music cultures and stands for an attitude that could be described as postcolonial avant la lettre: Schiffer developed numerous concepts with the help of which she tried to bring together music theory, musicology and composition from 'East and West' as complementary elements. Various publications, her own compositions and, above all, her numerous letters provide information about her ideas and work.

After her studies of musicology, composition and philosophy in Berlin, Brigitte Schiffer had to flee from Nazi persecution in 1935 and returned to Egypt where she had been living with her parents from 1923 to 1929. She soon held influential positions in Cairo's musical life. Schiffer spent the following 30 years of her career as an educator and music journalist in Egypt. During this time, she wrote numerous letters to her friends in Germany about her personal life, her acquaintance with artists and intellectuals from the city's cosmopolitan cultural environment and her professional experiences as a director and teacher at the Institute for the Education of Girls and high-ranking employee at the Egyptian Ministry of Culture.

The translation and publication of selected letters from German to Arabic aim at stimulating the discussion about artistic and intellectual exchange processes and the role of European migrants in the cultural life of their Arab host countries, particularly Egypt, in the first half of the twentieth century. A particular focus lies on the internationalization of musical culture after 1945, the conditions and effects of the cultural cold war, and, above all, the situation of New Music and music education in Egypt and the Arab world in general. At the same time, the publication wants to instigate reflections on transnational historiography by acknowledging the importance of translation processes for the transfer and exchange of knowledge.
Contributions by AGYA members
Introduction – Matthias Pasdzierny & Ikram Hili
p. 9-11
"A Woman of Many Interests and Talents" - Brigitte Schiffer and her Letters – Matthias Pasdzierny & Dörte Schmidt
p. 13-19