Happyopolis - The podcast about urban health and well-being in the Arab world and Germany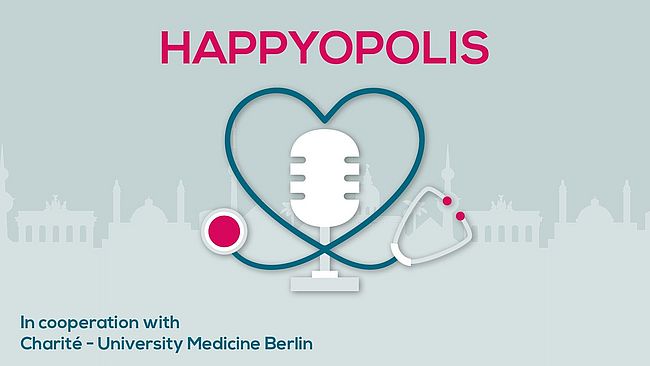 Welcome to the podcast 'Happyopolis'!
We invite you to join us in exploring how to make city life healthier, more social, and of course, happier.
In each episode, we feature cities across the Arab region and Germany, which have developed ideas, concepts, and solutions for a happy and healthy city life. These are solutions that are not only worth discovering but also worth sharing with your own community.
The host, Dr. Louise Lambert, is your guide on this exciting adventure. She will be joined by a diverse array of guests, including urban planners, architects, positive psychologists, public health and sustainability experts, engineers, artists, policy-makers and many more.
Berlin - A hotspot for researching urban stress and healthy cities
:
EPISODE 1
­The first episode in this series is about buzzing and busy Berlin. And stress: the kind that comes from living in a dense and still growing city. Can we better protect the mental health and well-being of residents by minimizing stress factors? The capital of Germany has become a hotspot in the scientific study of urban stress and healthy cities.
Special guests of the first episode are:
4:40 Prof. Dr.

Mazda Adli

, a psychiatrist and professor at the Department of Psychiatry and Neurosciences at the Charité – University Medicine Berlin. He is a social stress expert and explains how urban living can contribute to social stress in various ways. And what to do about it.

22:30

Ulrike Gote

, Senator for Higher Education and Research, Health, Long-Term Care and Gender Equality in the Berlin state government from 2021 to 2023. She speaks about the Governmental strategy

Berlin Health City 2030/Gesundheitsstadt Berlin 2030.

35:00 AGYA alumnus Prof. Dr.

Ahmed Hegazy

, a practicing medical doctor and professor in the Department of Gastroenterology, Infectiology and Rheumatology, Charité – University Medicine Berlin. He talks about the difference in disease development between people living in urban and rural areas.
Kindly note:
The audio files shown on this website www.agya.info are taken from an external source (SoundCloud). By loading this page, connection data is transferred to SoundCloud. Kindly find AGYA's privacy policy here.
The Arab-German Young Academy of Sciences and Humanities (AGYA) provides this podcast as a public service. The authors/speakers remain solely responsible for the contents and recommendations provided in the podcast and do not reflect positions of AGYA or any of its funding partners.