About us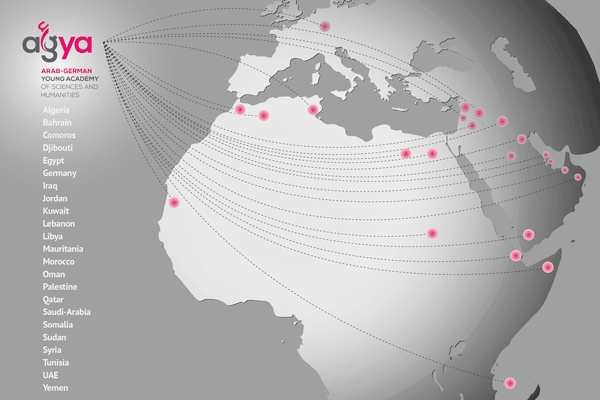 AGYA – The First Bilateral Young Academy Worldwide
The Arab-German Young Academy of Sciences and Humanities (AGYA) is based at the Berlin-Brandenburg Academy of Sciences and Humanities (BBAW) and at the Academy of Scientific Research & Technology (ASRT) in Egypt. It was established in 2013 as the first bilateral young academy worldwide. AGYA promotes research cooperation among outstanding early-career researchers (3–10 years after PhD) from all disciplines who are affiliated with a research institution in Germany or any Arab country. After a highly competitive selection process, membership in the academy is granted for up to five years, followed by lifelong membership in the AGYA alumni network.
The academy offers its members support and funding for their innovative projects and initiatives in all fields of research, as well as in science policy and education. Moreover, AGYA fosters the intercultural experiences of its members and promotes them as ambassadors of science and culture. The academy's aim is to serve as a cross-cultural think tank, promoting and supporting Arab-German research exchange and North – South – South cooperation.
AGYA is independent with respect to the content and forms of its academic activities. The activities are carried out by its members and coordinated by a Steering Committee consisting of three Arab and three German members. The academy is supported by an Advisory Board of highprofile Arab and German representatives of internationally renowned academic institutions, who promote the work of AGYA and participate in the selection of AGYA members.
AGYA is mainly funded by the German Federal Ministry of Education and Research (BMBF).
was founded in 2013 as the first bilateral young academy worldwide.
promotes early-career scholars (3–10 years after PhD) in the framework of Arab-German research cooperation.
is a successful model for innovative international research cooperation.
offers support and funding to its members for their interdisciplinary research projects.
are in equal numbers Arab and German scholars, currently there are 50 members and more than 40 alumni.
represent a wide range of disciplines: from humanities to natural, social, technical, life sciences and the arts.
are affiliated with a research institution in Germany or in any Arab country.
benefit from a five-year membership followed by a lifelong participation in AGYA's alumni network.

The Academy's Spirit: Academic Excellence Combined with Social Commitment
As a interdisciplinary research academy, AGYA is ideally placed to unleash the potential of early-career scholars who combine academic excellence with social commitment. AGYA brings together excellent young researchers from the natural sciences, technical sciences, humanities, social sciences, life sciences and the arts to develop and carry out joint projects. In this capacity, AGYA serves as a platform for cutting-edge research across disciplines, a meeting-point for transcultural discussion and a think tank for scientific reflection and policy development in the Arab world and Germany.
Various other Arab and German institutions and organizations support individual projects and key activities such as AGYA Annual Conferences.
creates innovation by cooperation.
tackles common challenges from an Arab-German perspective.
brings together excellent early-career researchers.
supports interdisciplinary research projects and initiatives of its members.
offers efficient research infrastructure for working together on common solutions.
establishes sustainable innovation networks with regional competence centres.
effectively strengthens new forms of North-South-South cooperation.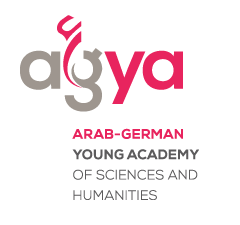 The AGYA-Logo explained
The logo was designed by a team of designers from Egypt and Germany. The Arabic letter on top of the G brings verve into AGYA corporate identity: It can be read as both the Arabic letter 'ayn (stands for arabi = Arabic) and the letter alif with hamza (stands for almani = German).
Thus the dynamic Arabic element of the logo symbolizes the two partners in cooperation of this first bilateral young academy worldwide: the Arab world and Germany.
Find more information here