About us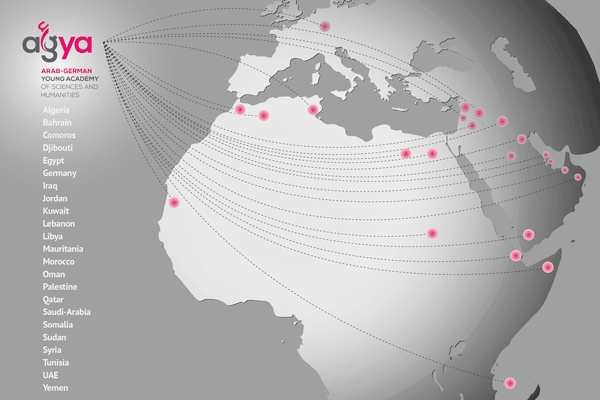 Bilateral and Interdisciplinary Academy
The Arab-German Young Academy of Sciences and Humanities (AGYA) is based at the Berlin-Brandenburg Academy of Sciences and Humanities (BBAW) and at the Academy of Scientific Research & Technology (ASRT) in Egypt. It was established in 2013 as the first bilateral young academy worldwide.
Following two public Calls for Membership more than 600 early-career scholars from 22 different countries and from various fields submitted their applications. 25 Arab and 25 German applicants were selected as the first members.

The AGYA aims to establish a community of outstanding researchers, who are at an early stage in their academic career. The potential members of the AGYA are distinguished young researchers from Germany and the Arab countries (Algeria, Bahrain, Comoros, Djibouti, Egypt, Iraq, Jordan, Kuwait, Lebanon, Libya, Mauritania, Morocco, Oman, Palestine, Qatar, Saudi Arabia, Somalia, Sudan, Syria,Tunisia, United Arab Emirates, Yemen).
The goal of the AGYA is the effective strengthening of the international cooperation between excellent Arab and German early-career researchers. In the light of the present global challenges this mission is more relevant than ever. Arab and German researchers must intensify their contacts and establish new forms of cooperation.
The AGYA supports innovative collaborative projects and cooperative initiatives from different areas of scientific research, science policy and education. The concept of the AGYA is to maintain the practical application of interdisciplinarity. In relation to the format and content of its academic activities, the AGYA is independent.
The AGYA offers its members a unique opportunity to develop and implement their ideas, visions and projects in the framework of Arab-German research cooperation. Moreover, the AGYA fosters the intercultural experience of its members and promotes them as ambassadors of science and culture.