Upcoming Events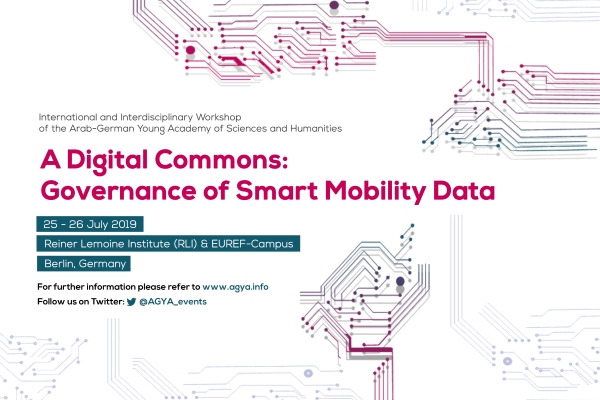 Graphic by AGYA/Zoya Fathema Jindran

Workshop on 'A Digital Commons: Governance of Smart Mobility Data'
25 - 26 Jul 2019

Reiner Lemoine Institute & EUREF-Campus
Berlin, Germany
---
With the rapid development of smart cities, concerns about data ownership are growing. Through a myriad of stakeholders, such as local office bodies, sharing providers or established companies, the volume of collected data is growing, but little of it is directed towards socially enhancing applications: private entities aim for profits, and public agencies lack efficacy in managing data. Concurrently, the 'open source' and 'open data' movements are gaining more ground and have succeeded in offering a technologically and legally workable 'open' technological framework for big data whereby a wider, safer, and more accountable data integration is increasingly possible. However, only with strong public policy and transparent governance a management of the digital commons can be achieved.

So far, there is only little research on how to provide adequate governance principles and infrastructures for managing data integration and establishing their usage for the public good. Such a governance infrastructure is necessary to enable more data-driven support of public-oriented initiatives while safeguarding individual and collective security. This challenge is crystallized in cities where mobility-as-a-service entities, public agencies, and providers of volunteered geographic information all add to myriad qualities of big data. Big data has originally been conceptualized as a common good enabling for instance commons-based peer knowledge production for local initiative. Understanding data as a common good therefore makes the case for the existence of a collective stake to be governed, as opposed to leaving the resource vulnerable to expanded access by competing users and motives.

In the framework of an international workshop, AGYA members together with external experts from various disciplines like engineering, energy studies and economics, information and communication technology, philosophy and political science, aim at initiating a discussion on how to reconfigure the roles needed to govern the current data processes and relationships with a focus on the common good, and how to integrate them with current discussions on urban commons. Successful governance of big data will bridge the gap between user control (e.g. decentralized payment with block chain technologies) and data availability for public policies (e.g. data donations by users to municipalities to improve transport planning with urban computing), especially in upcoming smart cities.

The workshop on 'A Digital Commons: Governance of Smart Mobility Data' will take place in Berlin, Germany from 25 – 26 July 2019 and is a project of the AGYA Working Group Innovation.


---
25 – 26 July 2019, all day,
Reiner Lemoine Institute, Rudower Chaussee 12, 12489 Berlin, Germany
EUREF-Campus Berlin, EUREF-Campus 13, 10829 Berlin, Germany


The participation is reserved to AGYA members and invited speakers.