Upcoming Events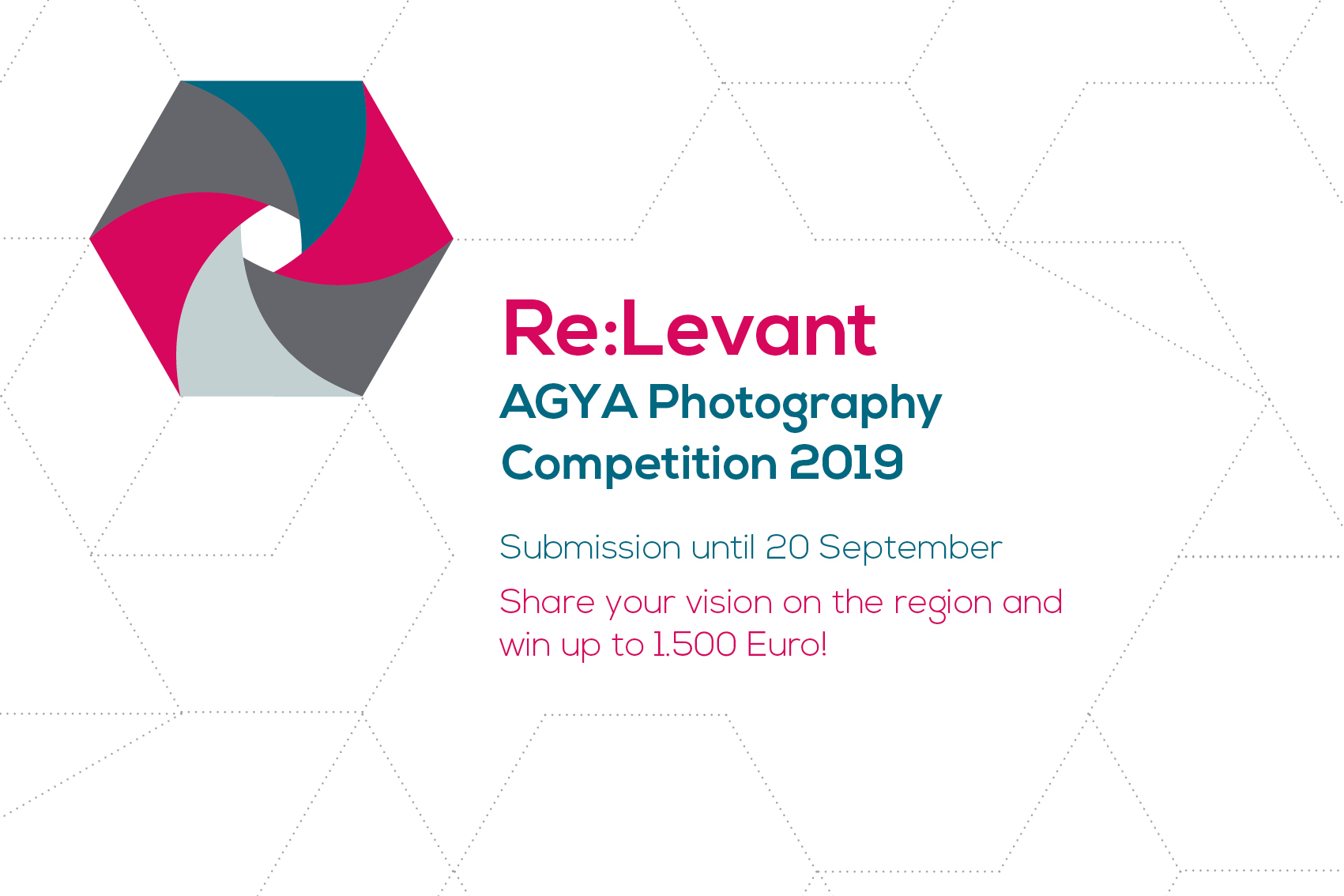 Picture by berbach GmbH, Agentur für Design und Medien

Re:Levant AGYA Photography Competition
11 Oct 2019

Sursock Museum, Beirut, Lebanon
---
With the first of a kind 'Re:Levant' AGYA Photography Competition 2019, AGYA aims to gain new perspectives and input on Arab-Arab cooperation with a special focus on the Levant as a region, a social construct and a geographical location. The goal is to learn more about this unique region through photographs that display a variety of visions and viewpoints from within the region. Hereby AGYA seeks to spark new interdisciplinary impetus for scientific research on the region and reflect the diverse connotations of the Levant.

The 'Re:Levant' AGYA Photography Competition, is open to all photography lovers currently living in the Levant region also known as ash-Shām or al-Mashriq (Jordan, Lebanon, Palestine and Syria). The following questions should serve as a theme for submissions to this competition:
Where do you encounter the Levant as a relevant concept for the geographical region you are living in?
What do the countries of the Levant share and what is keeping them apart?
How do you perceive cooperation between the Levant countries?
Where do you see common chances and challenges for this region?
How is the Levant present in your daily life?

We look forward to receiving a broad range of images that are creative, pertinent and of good quality. Photographs submitted will be assessed according to their engagement with the competition theme, their aesthetic impact, and technical excellence. Creativity is the key: participants are invited to think outside the box.

The visibility and networking opportunities we offer to the winners of the 'Re:Levant' AGYA Photography Competition 2019 are accompanied by cash prizes that can help participants to boost their reputation and upgrade their equipment:
1st prize is 1500 Euro
2nd prize is 1000 Euro
3rd prize is 500 Euro

A selection of photographs will be displayed during the public AGYA Photography Competition Award Ceremony at the Sursock Museum in Beirut on 11 October 2019.

The Top 10 participants will be invited to the event in Beirut (travel costs covered by AGYA) and the winning photographs may have the opportunity to be exhibited in Berlin.

For the special prize entitled 'People's Choice Award', public opinion is taken into consideration through voting. The shortlisted Top 10 photographs will be uploaded on the AGYA Facebook page and the winner should have the highest number of likes. This prize amounts to 500 EUR and the winning participant will also be invited to the AGYA Photography Competition Award Ceremony on 11 October 2019 at Sursock Museum, Beirut, Lebanon.

The contest aims to reflect the diversity of perspectives in the Levant and seeks to find creative answers to the questions of this competition by stimulating and attracting photography enthusiasts in the region. With a distinguished panel of jurors and a chance to present the winning photos at the AGYA Photography Competition Award Ceremony at Sursock Museum in Beirut, this competition provides a great opportunity for public exposure to all photography enthusiasts in the region.

We are looking forward to submissions until 20 September 2019 at 23:59 CET on:
contests.picter.com/agya-relevant-photo-competition-2019


---
11 October 2019, 7:00 – 10:00 p.m.,
Sursock Museum, Greek Orthodox Archbishopric Street, Achrafieh, Beirut