AGYA Member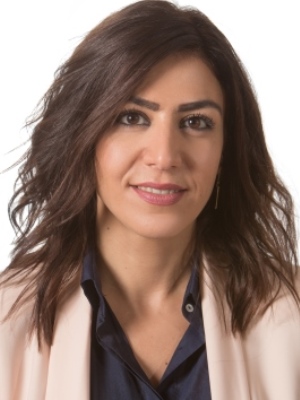 Zeina Hobaika
Biochemistry
Areas of Expertise:
Bioenergy, Rational Drug Design, Macromolecules Structure & Interactions, Agro-industrial Byproducts Valorization
---
About me
I am currently Assistant Professor at the Faculty of Science at Saint Joseph University of Beirut. My main research interests cover rational drug design for crucial therapeutic proteins targets. We aim specifically, in a molecular modeling approach, to contribute to fighting diseases such as AIDS, Cancer or Alzheimer's. Another major project I am working on consists in the management and the valorization of agro-industrial byproducts and waste. Our activities include bioactive compounds extraction and characterization, waste to energy process optimization and public strategies implementation.
I hope to take part in the construction of healthy global societies, within sustainable development approaches. Therefore, I believe our actions and policies should take account of economic, social and environmental aspects in dealing with long-term issues and have to involve various stakeholders at the public and private sector interface. Accordingly, being a member of AGYA will allow me to fulfill these objectives, in the best way possible. In fact, I consider AGYA an expanded network of excellence where we can learn from others, learn about and grow towards each other.
---
Current projects
Member of the AGYA Working Groups Energy, Water and Environment & Health and Society
Waste Management and Valorization: production of biogas and compost in collaboration with UBS, France and Lebanese Agriculture Research Institute, arcenciel NGO, Château KSARA and Château KEFRAYA, Lebanon
Valorization of agro-industrial byproducts: characterization of phenolic compounds in Lebanese fruits, in collaboration with University of Technology of Compiègne (UTC), France and American University of Beirut(AUB), Lebanon
Study of inhibitors complexes with therapeutic properties: applications to metalloproteins involved in pathologies, in collaboration with UPMC Sorbonne Université, France and NIH Bethesda, Maryland, USA
MentorShe Project to empower Lebanese Women in Politics, funded by the Alumni Engagement Fund Innovation Fund (AEIF), USA
TechWomen Program Ambassador and L'Oréal-UNESCO For Women In Sciences Ambassador in Lebanon, to empower young girls and women in STEM fields
Towards Excellence III Forum, to promote Excellence culture among Lebanese enterprises
---
Academic Career
| | |
| --- | --- |
| 2015 - | Head of Macromolecules Structure and Interactions Research Team, Faculty of Sciences, Saint Joseph University of Beirut; Lebanon |
| 2014 - 2015 | Executive Diploma in Management and Conduct of Strategic Projects, Sciences Po; Paris, France |
| 2012 - | Head of Master's in BioMarketing, Faculty of Sciences, Saint Joseph University of Beirut; Lebanon |
| 2012 - | Senior Lecturer, Faculty of Medicine, Saint Joseph University of Beirut; Lebanon |
| 2010 - | Assistant Professor, Life and Earth Sciences - Biochemistry Department, Faculty of Sciences, Saint Joseph University of Beirut; Lebanon |
| 2009 | PhD in Structure, Function and Proteins Engineering, Université Paris 7; France |
| 2005 | MA in Sciences, Health and Applications, Université Paris 7; France (Exchange Program with Saint Joseph University of Beirut) |
| 2005 | MA in Structure and Interactions of Macromolecules and Functional Genomics, Saint Joseph University; Beirut, Lebanon |
---
Selected Publications
El Achkar J.L., Lendormi T., Salameh D., Louka N., Maroun R.G., Lanoisellé J.L. & Hobaika Z. (submitted). Influence of several pretreatment conditions on lignocellulosic fractions and methane production from grape pomace, Bioresource Technology. (Ref: BITE-D-17-05073).
EL Khoury L., Piquemal, J.P., Fermandjian S., Maroun R.G., Gresh N. & Hobaika Z. (2017). The inhibition process of HIV-1 integrase by diketoacids molecules: understanding the better efficiency of Dolutegravir, Biochemical and Biophysical Research Communications. 1; 488(3), 433-438. Doi: 10.1016/j.bbrc.2017.05.00.
El Hage K., Piquemal J.P., Hobaika Z., Maroun R.G. & Gresh N. (2014). Substituent-Modulated Affinities of Halobenzene Derivatives to the HIV-1 Integrase Recognition Site. Analyses of the Interaction Energies by Parallel Quantum Chemical and Polarizable Molecular Mechanics, The Journal of Physical Chemistry A. 2014 Oct 16; 118(41), 9772-82. Doi: 10.1021/jp5079899.
see a full list of publications

>