AGYA Member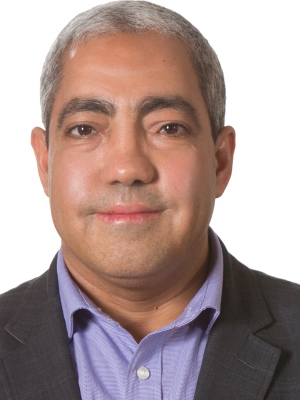 Nageh Allam
Engineering, Material Science
Areas of Expertise:
Energy Materials, Solar Fuel & Fuel Cells, Solar Cells, Supercapacitors, Plasmonic Nanomaterials, Thermoelectric Materials, Biomaterials, Biosensors, Optical Sensors, Desalination Materials, Computational Materials Science
---
About me
Nageh Allam is an Associate Professor of Physics at the American University in Cairo, Egypt:
My research is multidisciplinary in nature as it is at the interface between Nanoscience, Physics and Chemistry. It deals with the development of a set of synthetic and fabrication techniques to obtain well-designed nanostructured materials with composition, size and shape control for use in energy conversion and storage, sensors applications, biomedical applications. I have published more than 100 papers in reputed peer-reviewed international journals and more than 90 conference articles.
Within AGYA, I will contribute in projects related to the fields of energy materials, desalination, and biotechnology; particularly raising awareness on the importance of renewable energy. Through AGYA, as a dynamic group of researchers, I can share my expertise and learn from fellow members.
---
Current projects
Member of the AGYA Working Groups Energy, Water and Environment & Arab and German Education
---
Academic Career
| | |
| --- | --- |
| 2017 - | Graduate Director, Physics Department, American University in Cairo (AUC); Egypt |
| 2015 - | Associate Professor, Director of the Energy Materials Laboratory, AUC; Egypt |
| 2011 - | Affiliate Scientist, Massachusetts Institute of Technology (MIT); Cambridge (MA), USA |
| 2011 - 2015 | Assistant Professor, Director of the Energy Materials Laboratory, AUC; Egypt |
| Summer 2013 | Visiting Scientist, Applied Physics and Materials Science, California Institute of Technology; Pasadena (CA), USA |
| 2010 - 2011 | Post-doctoral Researcher, Laser Dynamics Laboratory, Georgia Institute of Technology; Atlanta (GA); USA |
| 2009 | PhD in Material Science and Engineering, The Pennsylvania State University (PSU); USA |
| 2005 - 2009 | Graduate Research Assistant, Center for Solar Nanomaterials, PSU; USA |
| 2005 | Visiting Scholar, Max Planck Institute; Düsseldorf, Germany |
| 2003 | MS in Materials Chemistry, Cairo University; Egypt |
---
Selected Publications
El-Gendy, D. M., Abdel Ghany, N. A., El-Sherbini, E. E. F. & Allam, N. K. (2017). Adenine-functionalized Spongy Graphene for Green and High-Performance Supercapacitors. Scientific Reports 7, 43104.
Samir, M., Salama, M. & Allam, N. K. (2016). Sub-100 nm TiO2 Tubular Architectures for Efficient Solar Energy Conversion. Journal of Material Chemistry A 4, 9375-9380.
Hassanien, A. S., Shedeed, R. & Allam, N. K. (2016). Graphene Quantum Sheets with Multiband Emission: Unravelling the Molecular Origin of Graphene Quantum Dots. Journal of Physical Chemistry C 120 (38), 21678–21684.
see a full list of publications

>