Energy, Water and Environment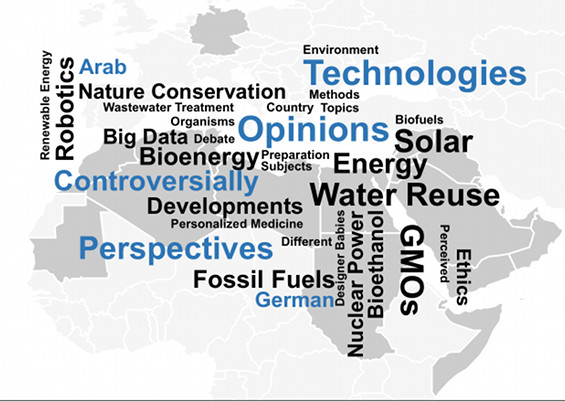 Graphic by: AGYA
Arab and German Perspectives on Controversially Perceived Technologies and Subjects
Working Paper Project
The project aims at reflecting upon current controversies in the Arab world and Germany on the use of different technologies regarding Nature Conservation, Wastewater Treatment, Climate Engineering, Solar Energy and Biomass Usage. The considerations on the different technologies are organized as 'perspective papers'.
This article series sheds light on different approaches toward the application of technologies in Germany and the Arab World. A mutual understanding of the commonalities and differences in the perception of these technologies should be considered as precondition for the success of Arab-German joint developments.


Contents
Editorial

This article series on controversially perceived technologies and subjects' aims at compiling a catalogue of Arab and German perceptions towards different topics
Collection and interpretation of country perspectives on disputed technologies and subjects: Methods and methodologies (in preparation)
Skander Elleuche & Younis Baqi

There is a constantly increasing demand for energy in rapidly industrializing nations. In this context, plant-derived biomass has been evaluated to be a sustainable resource.
Nature conservation (in preparation)
Lalla Btissam Drissi & Faycal Djeffal
A promising energy source for the future (in preparation)
Further contributions on additional technologies and subjects are very much welcomed. The perspective papers series is a project of the Working Group Energy, Water and Environment. Although, it benefits from a close cooperation with members from other AGYA Working Groups who support the preparation of country perspectives for selected topics and contribute to the ethical perspectives onto the disputed technologies.
DATE and Venue of the project
ongoing

Pictures by AGYA
Find more information here