Membership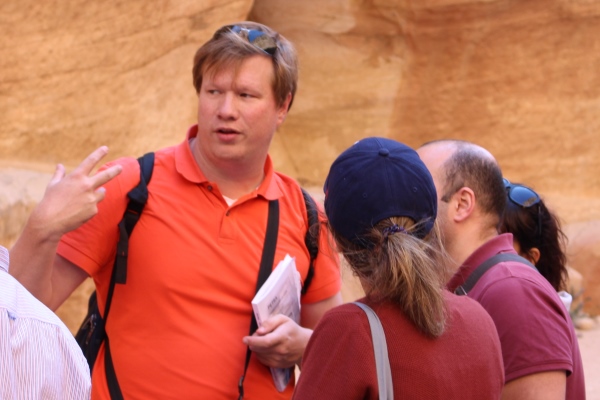 "Grow Personally and Professionally!" Heidelberg-based Ancient Historian Christian Fron on the Opportunities AGYA Provides
Christian Fron is Research Associate for Ancient History at the University of Heidelberg. He earned his PhD in 2014 and joined AGYA last year. In his interview, he outlines why and how he enjoys being an AGYA member. He describes in which ways he intends to contribute further to AGYA.


CHRISTIAN, WHAT WAS YOUR MOTIVATION TO APPLY FOR AN AGYA MEMBERSHIP?


Christian:
For me, the broad interdisciplinary approach of AGYA was very convincing. I am an ancient historian; but I have been collaborating with colleagues from other fields, like architects or physicists, for a long time and learned how valuable it is to work across disciplinary boarders. In AGYA, I closely team up with scholars from different academic backgrounds which is a very enriching experience. The AGYA spirit connects. We are all in similar career stages and everyone is open and willing to discuss new topics, methodologies or innovative project ideas. What also matters to me: We share personal experiences – stories of success as well as so-called "lessons learned". Thus, we widen our personal scopes. Membership in AGYA is attractive for many more reasons.


CAN YOU PLEASE DESCRIBE SOME DETAILS WHY IT IS INTERESTING TO BE AN AGYA MEMBER?


Christian:
AGYA conferences and events take place in Germany and different Arab countries. In addition we closely collaborate in our research projects. So we, the members, really get to know each other as well as the diverse scientific traditions and cultures and develop new perspectives. Honestly, these experiences are overwhelming. A further advantage: Within AGYA, we decide on what topics we focus. AGYA provides us with the funding to actually realize our research ideas and organise conferences and exhibitions. Moreover, as an academy member I benefit from the AGYA`s international network of excellent scholars and high-ranking research institutions.


DO YOU HAVE ANY CONCRETE PROJECTS THAT YOU WOULD LIKE TO REALIZE WITHIN AGYA?


Christian:
I joined AGYA last year and serve already as a member of the AGYA Steering Committee. We represent AGYA regularly at international conferences and leading academic institutions in Germany and the Arab world. In regard to my research, I am currently planning an international and interdisciplinary conference on travel writing and storytelling, which is one of my major research topics. With fellow AGYA colleagues of the Working Group "Common Heritage and Common Challenges" and further internationally renowned experts in this field we will address processes of exchange across and around the Mediterranean and our common entangled heritage. These topics are highly relevant for us today. Particularly interesting for me is that I will also receive input from Arab scholars, who focus on different eras and cultures in the Mediterranean. This allows me to rethink and reevaluate some interesting aspects developed within my doctoral thesis.

All in all, I look forward to the years to come as well as to new inspirations, new personal acquaintances and new travel and cultural experiences.


ONE FINAL QUESTION AS THE AGYA CALL FOR MEMBERSHIP IS NOW OPEN: IN YOUR OPINION, HOW DOES THE IDEAL CANDIDATE LOOK LIKE?


Christian:
AGYA supports excellent early-career scholars from the Arab World and Germany. Thus, the academy is looking for researchers who are outstanding in their research field. The applicant should be open to new ideas and eager to work in interdisciplinary project teams.
What we are looking for are outstanding and ambitious new Arab and German applicants, who will be able to add to the inspirational atmosphere of AGYA.
The AGYA Call for Membership 2018 is open until 3 April. Here, you can find all the details.